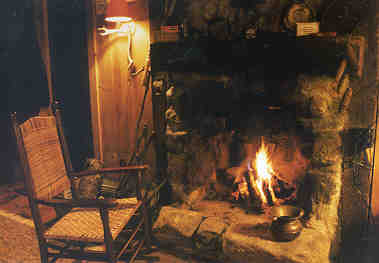 With terrible weather and illness, we have missed the unofficial end of summer. Even the weather has changed. Throughout the neighborhood, I am beginning to smell wafts of wood smoke. Leaves are beginning to change and the garden browns. Today, I removed the air conditioner and put socks on my cold feet.
Still feeling the affects of quite an illness, which has been pretty much narrowed down to a contaminated well from the overflow of rains recently, I've been dreaming of a hearth to curl up in front of. I love that they make those electric or gel fireplaces now so anyone can enjoy a hearth. Some day I'll buy one.
In the meantime, knitting is starting to sound good again. Just sitting and knitting. I can't knit worth beans, but I can at least make squares and scarves and it is relaxing.
What's your favorite curl up in an Autumn evening activity?

Oh...and cinnamon rolls! Autumn beckons cinnamon rolls and apple cider donuts from a local orchard! Oh, I am so going to gain back to 7 lbs I lost during this illness!